Pepul footprints across the world!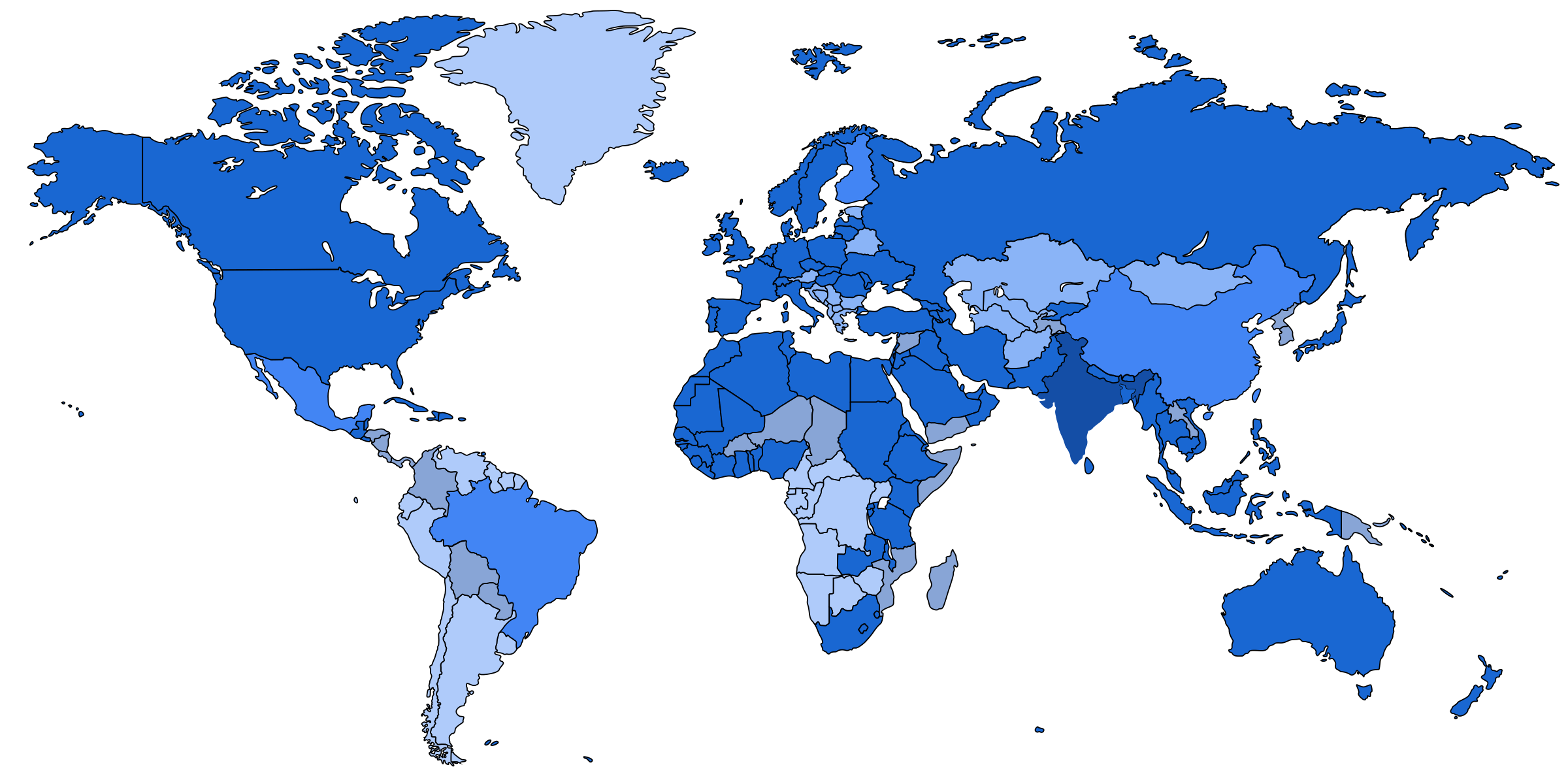 Who we are?
Pepul is a new age
Interest-based

Social Networking

platform from India, where people share their beautiful life stories & skills in their interests.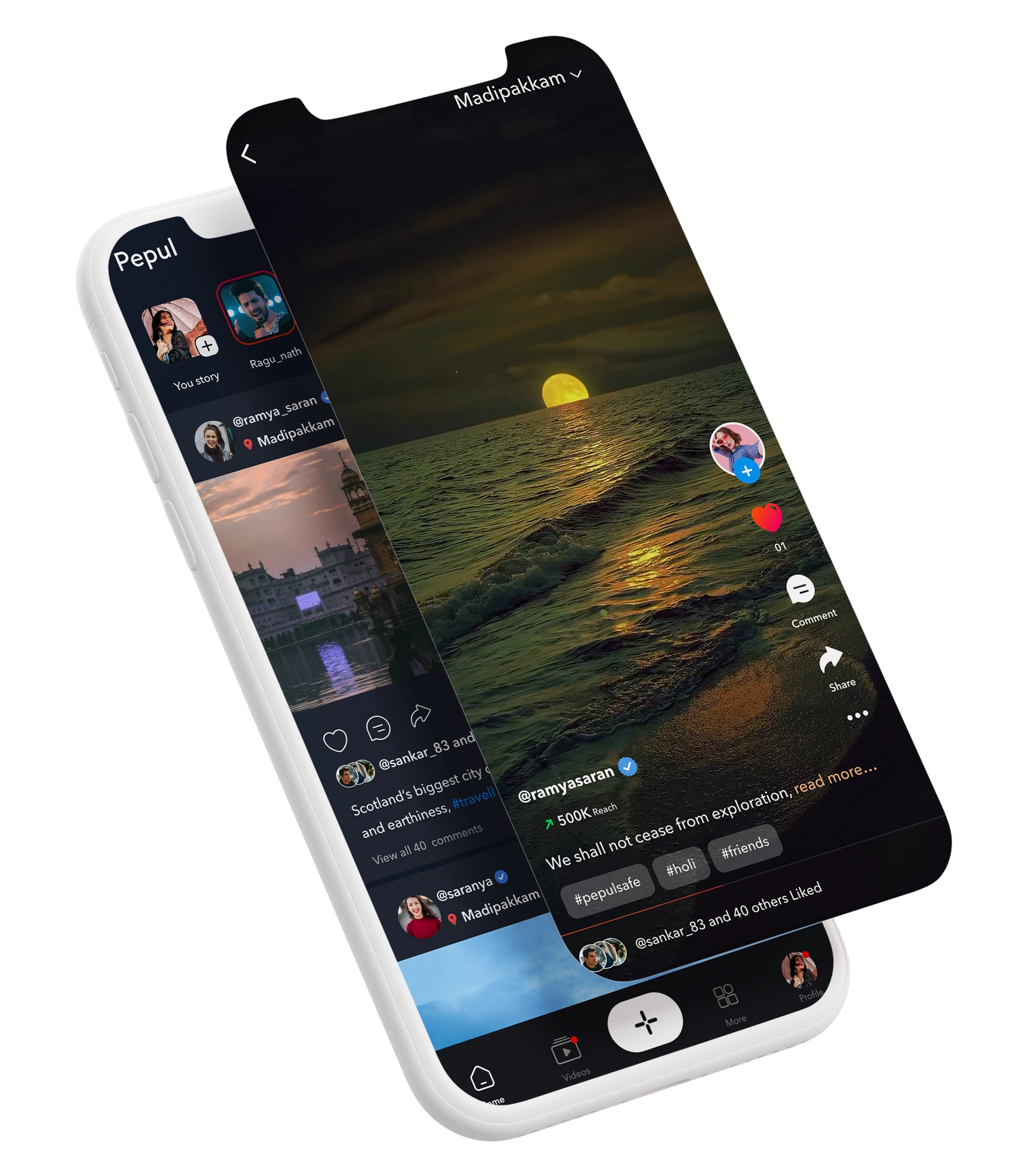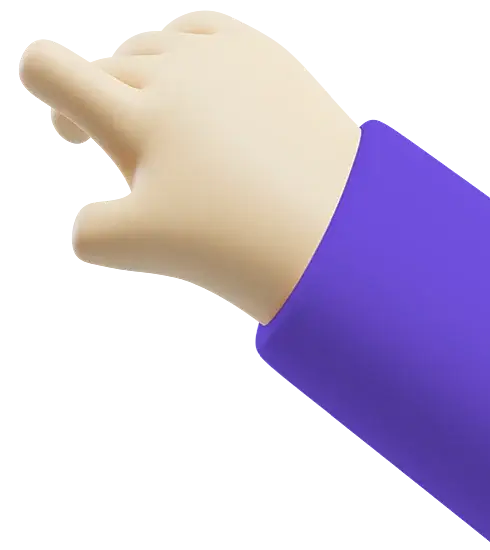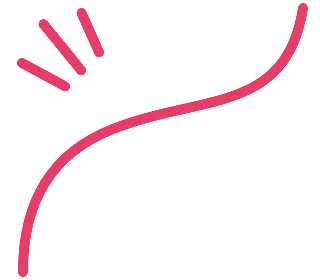 With our
"Privacy-first"

social platform and

hyperlocal

features, people can safely connect with nearby, like-minded, authentic profiles. These authentic user networks & nearby recommendations help people to create offline communities based on their interests.
Come .
Connect .
Celebrate
Celebrate the People for their Originality!
People about Pepul
Here are a few words about Pepul from the Pepul community,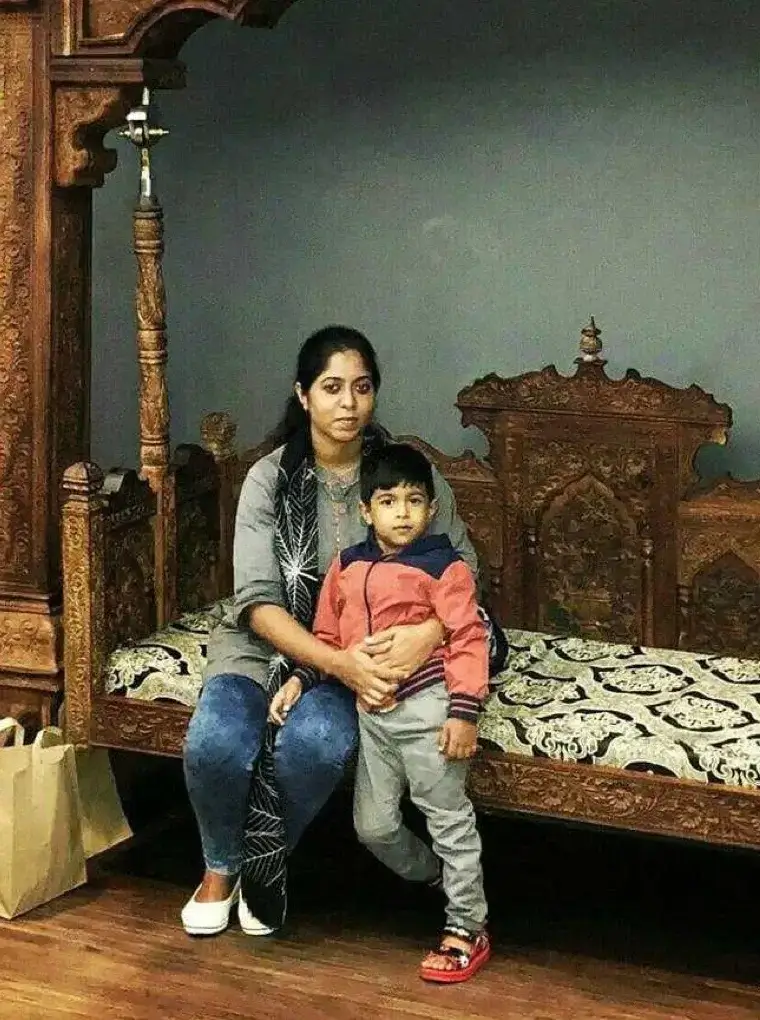 "A SAFE SOCIAL NETWORK FOR WOMEN"
As a woman, this is the 1st ever social media app, where I felt super safe than any other apps, in sharing my family & kids photos. I didn't feel like, I am in the middle of strangers. Instead, I was connected with the safe community of positive people and it was a warm feeling. So happy to connect with this great privacy & culture-filled social network.
- Porkodi Jeyachandran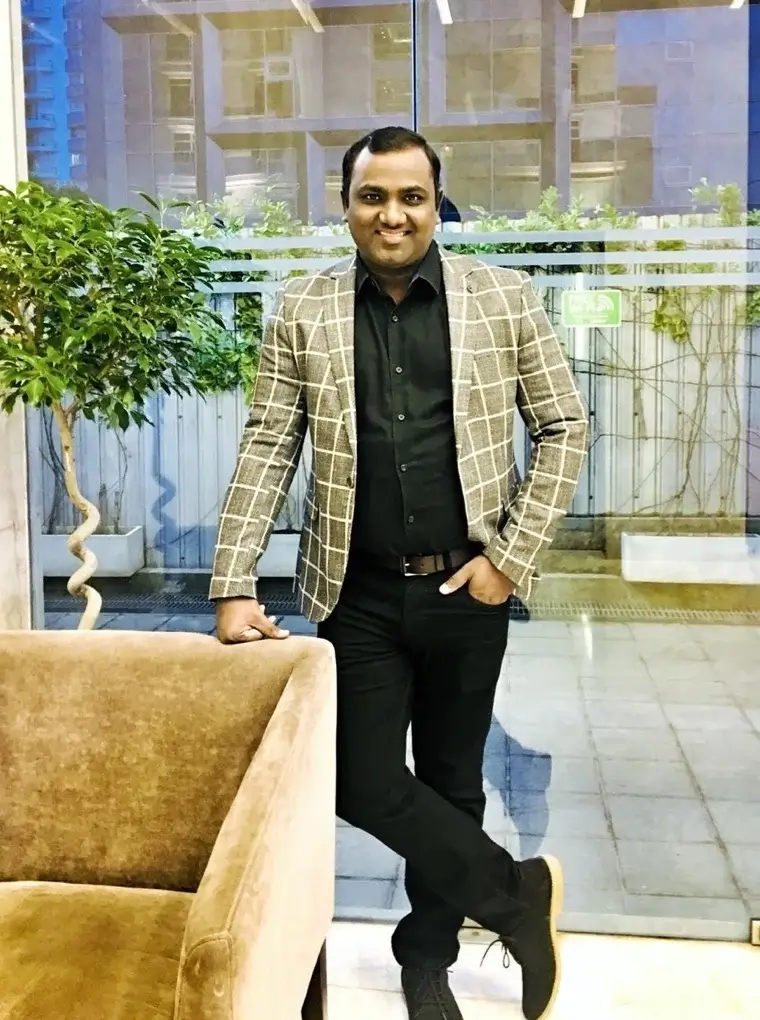 "NEXT BEST PLATFORM FOR CURIOUS "CONTENT CREATORS"
Nowadays, YouTubers know the competition and efforts needed to create & sustain the channel on Youtube. As a fellow new YouTuber, I have an idea of being an early adopter to a new emerging platform. So that, when it raises to a huge stage with millions of users once after releasing, I am able to get my huge follower base, just because am an early creator. Surprisingly, I found & joined this platform - "Pepul" which is going to satisfy my idea. This is absolutely a great growing platform and very soon going to fulfil the needs of fellow content creators like me!
- Joel Thomas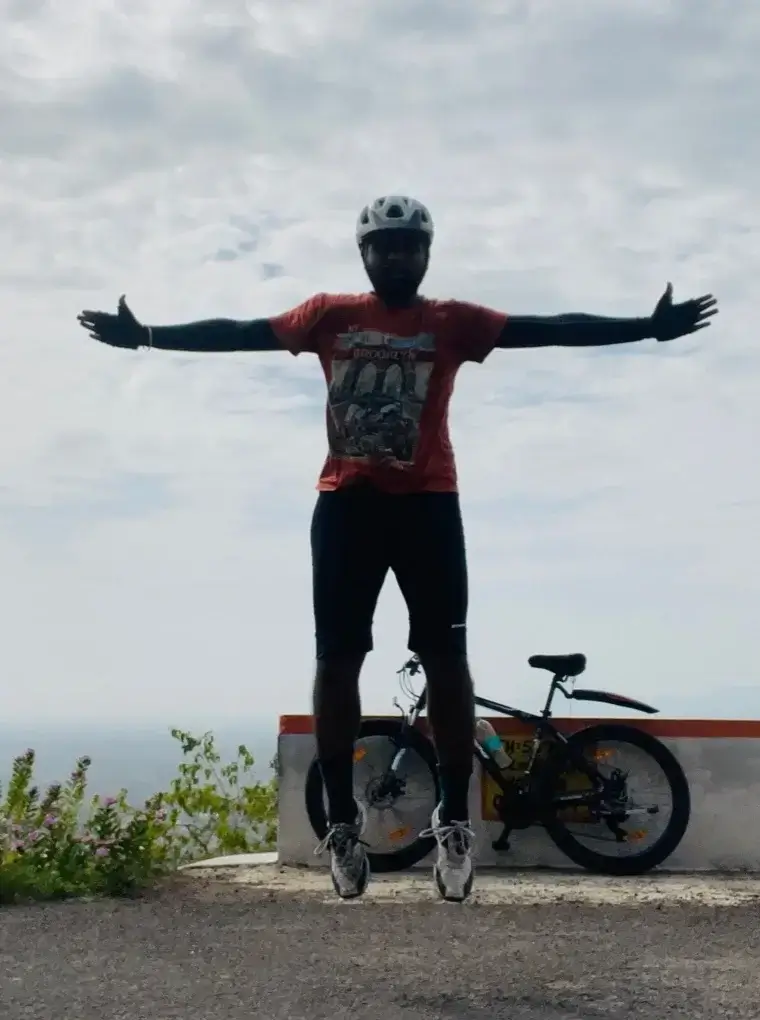 "GOT MY BIKING COMMUNITY HERE"
I am a cycling lover and love to get into adventurous journeys with my bike. Eventually, I tried out pepul and there got the unexpected surprise. Got connected with the community of biking lovers in my surrounding location. So thankful for the Pepul, which helped me to create our biking fun-filled community and great experience.
- Ashwin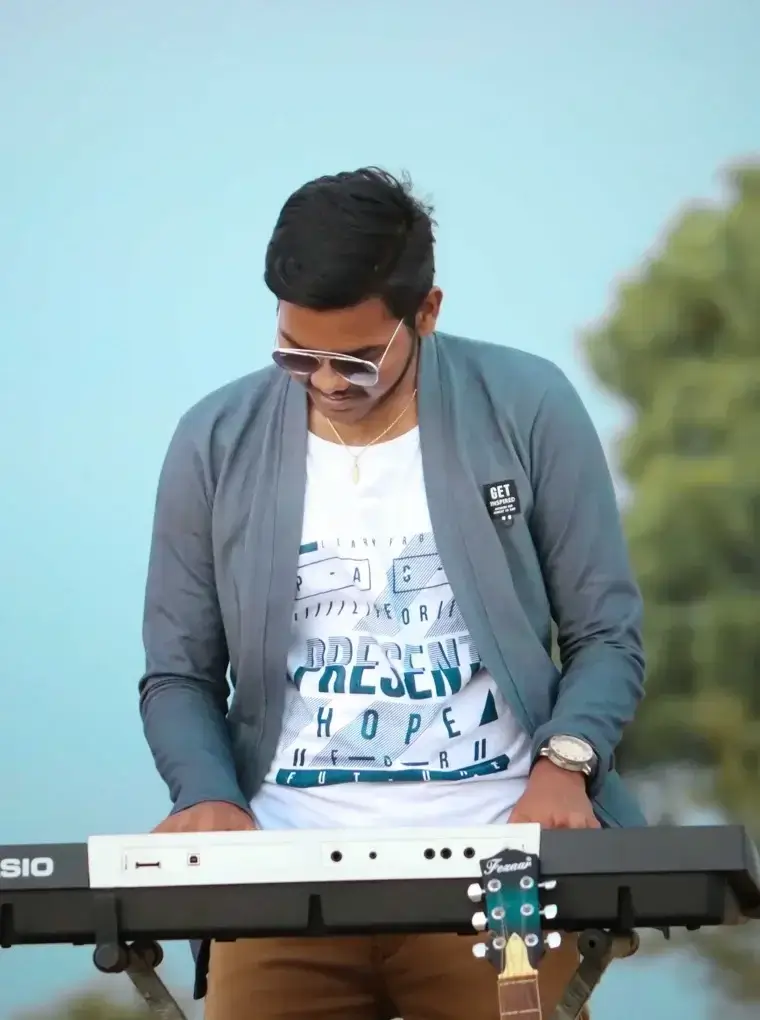 "CREATED MY MUSIC BAND FROM PEPUL"
I am a piano player since my early college days. For artists like me, little appreciation meant a lot that helps us to grow more in our passion. Till before joining Pepul, I have never witnessed those appreciations and celebrations on any other social media. I just expressed my talent here with the positive community and believe it or not, I got connected with the fellow nearby musicians and created our own band. It's a very new surprising experience that this social network helped a lot to propel my passion in reality.
- M.K.R. Hari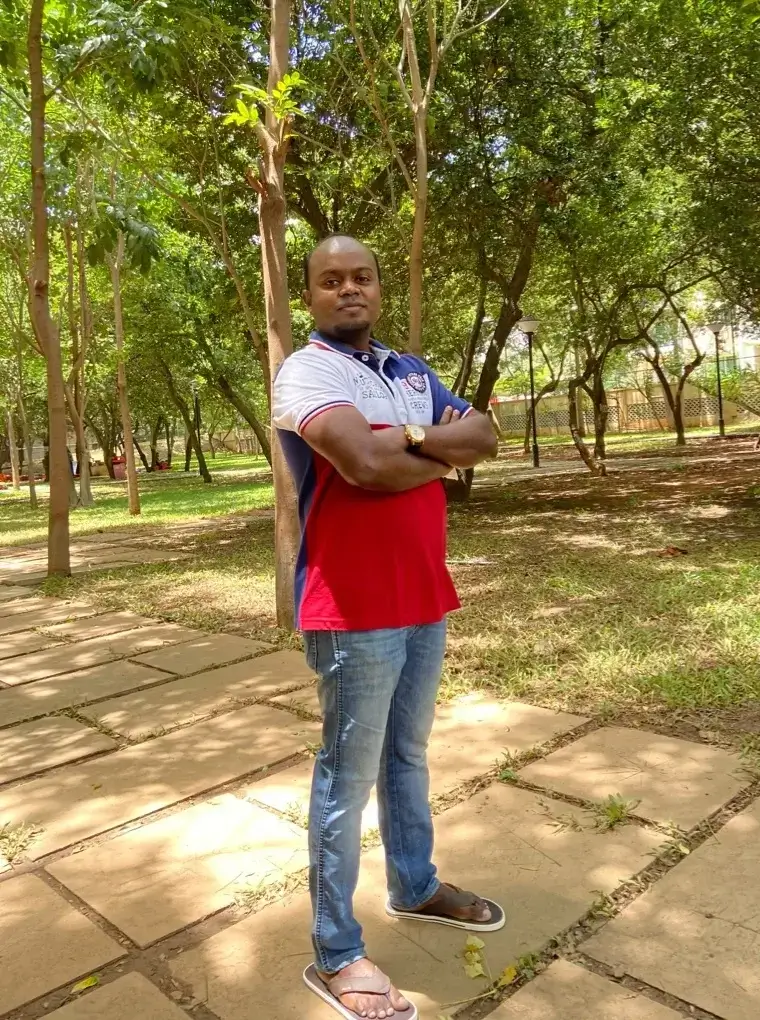 I LOVE TO WATCH THE DAILY LIFE STORIES OF MY FRIENDS HERE
Everyone is sharing their life happenings on social media. But, nowadays content is overloaded everywhere. With curiosity, I joined pepul to find out what's new. Personally, I don't have so much time to search and go through the stories of my friends. But always I wish I could. Surprisingly, in Pepul I am able to easily skim through my close friends' daily stories and trending happenings around me. Overall I love this new social experience and the people in the community.
- Sargunaraja
So, What's New?
The next-gen Positive Social Platform
We aim to create the safest social platform that has a positive users' community, where they connect and share positive, valuable content in their interests.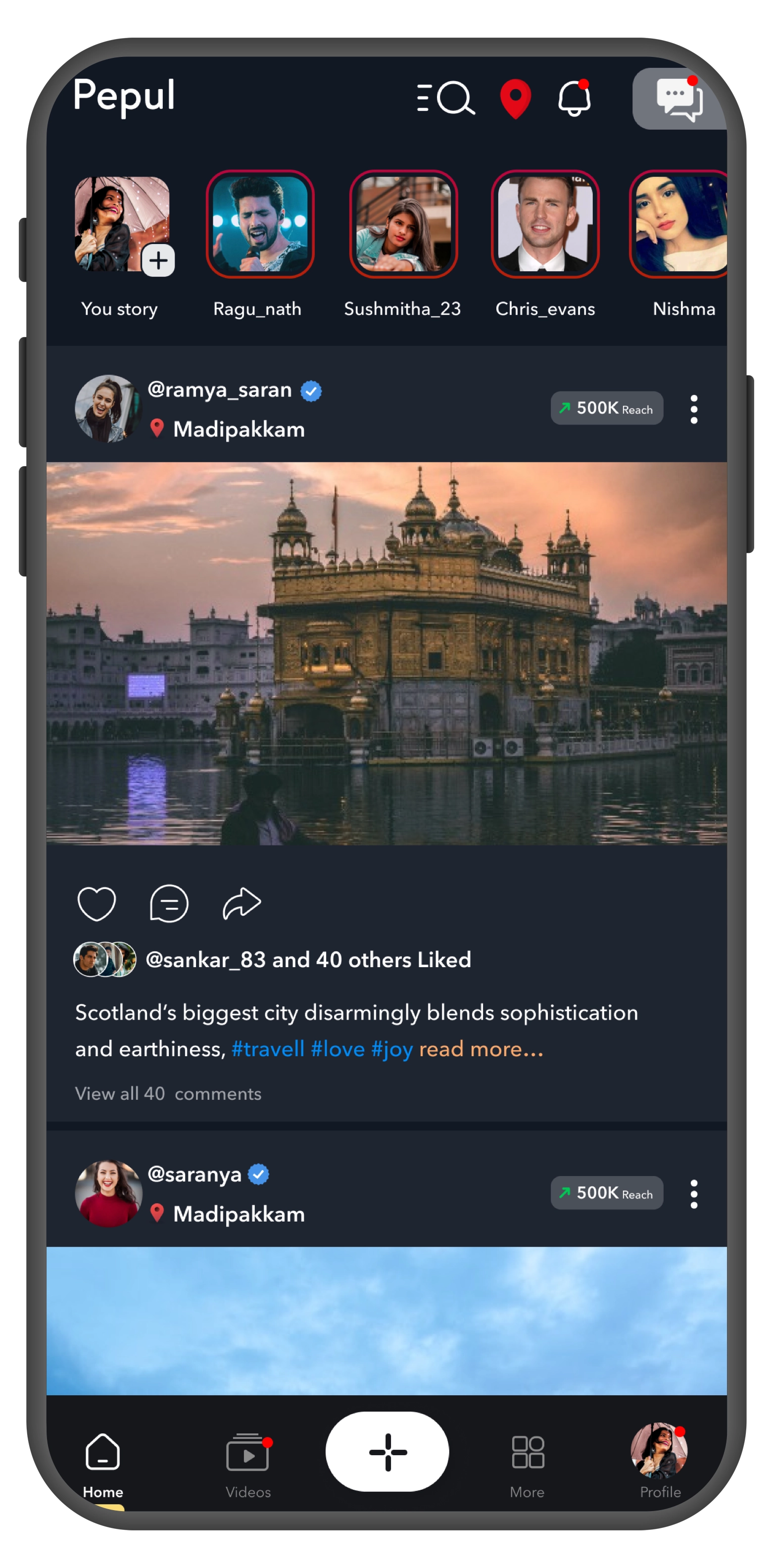 Clean, Anonymous-free Platform
On Pepul, only the authentic users with their real profile pictures can create user accounts. To verify their authenticity, we have currently implemented the "Aadhaar verification" method for Indian users in our platform.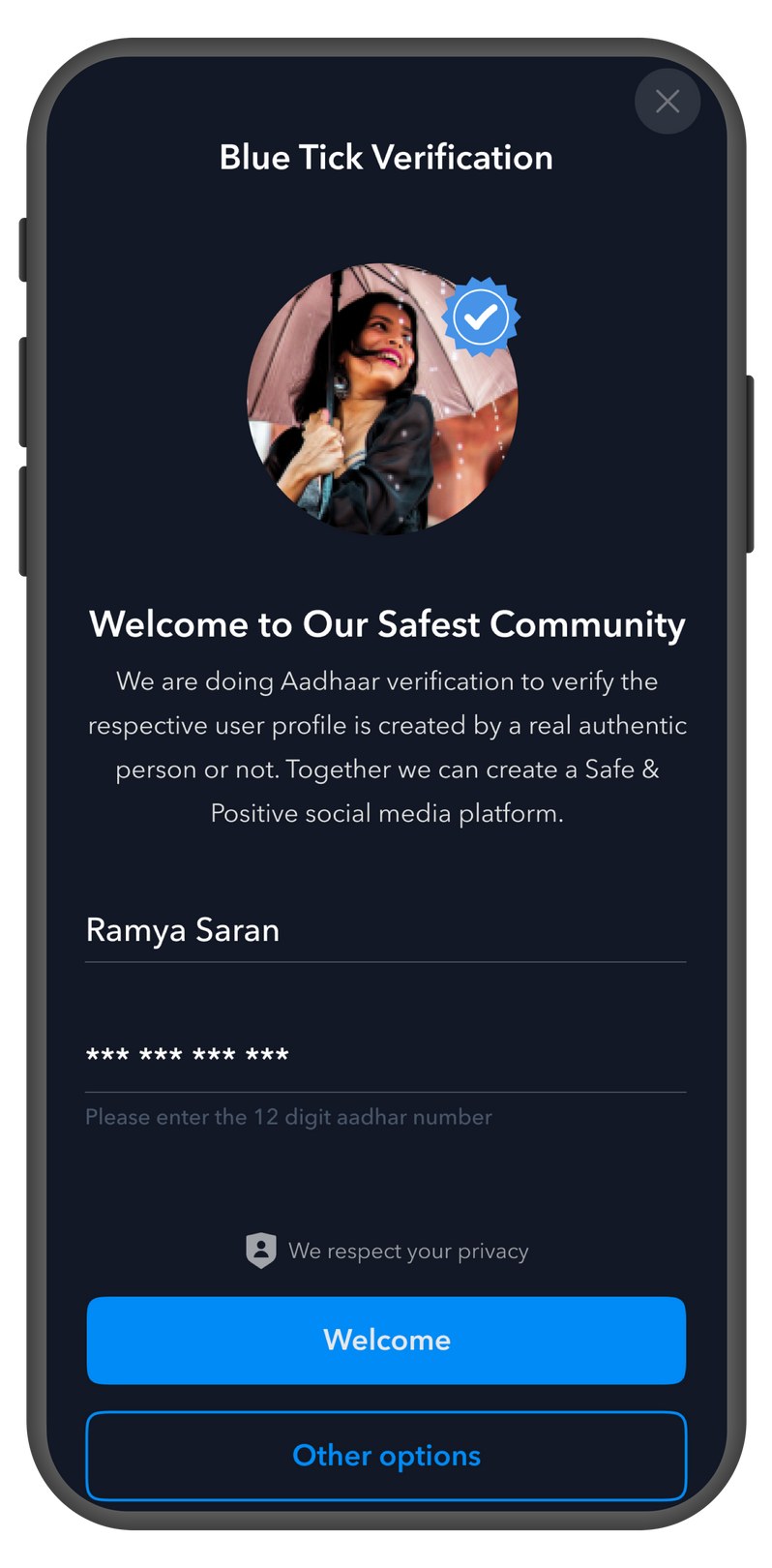 Your Privacy is our Priority!
We value our users' data in the first place! It's our responsibility and mission to secure our users who trust us.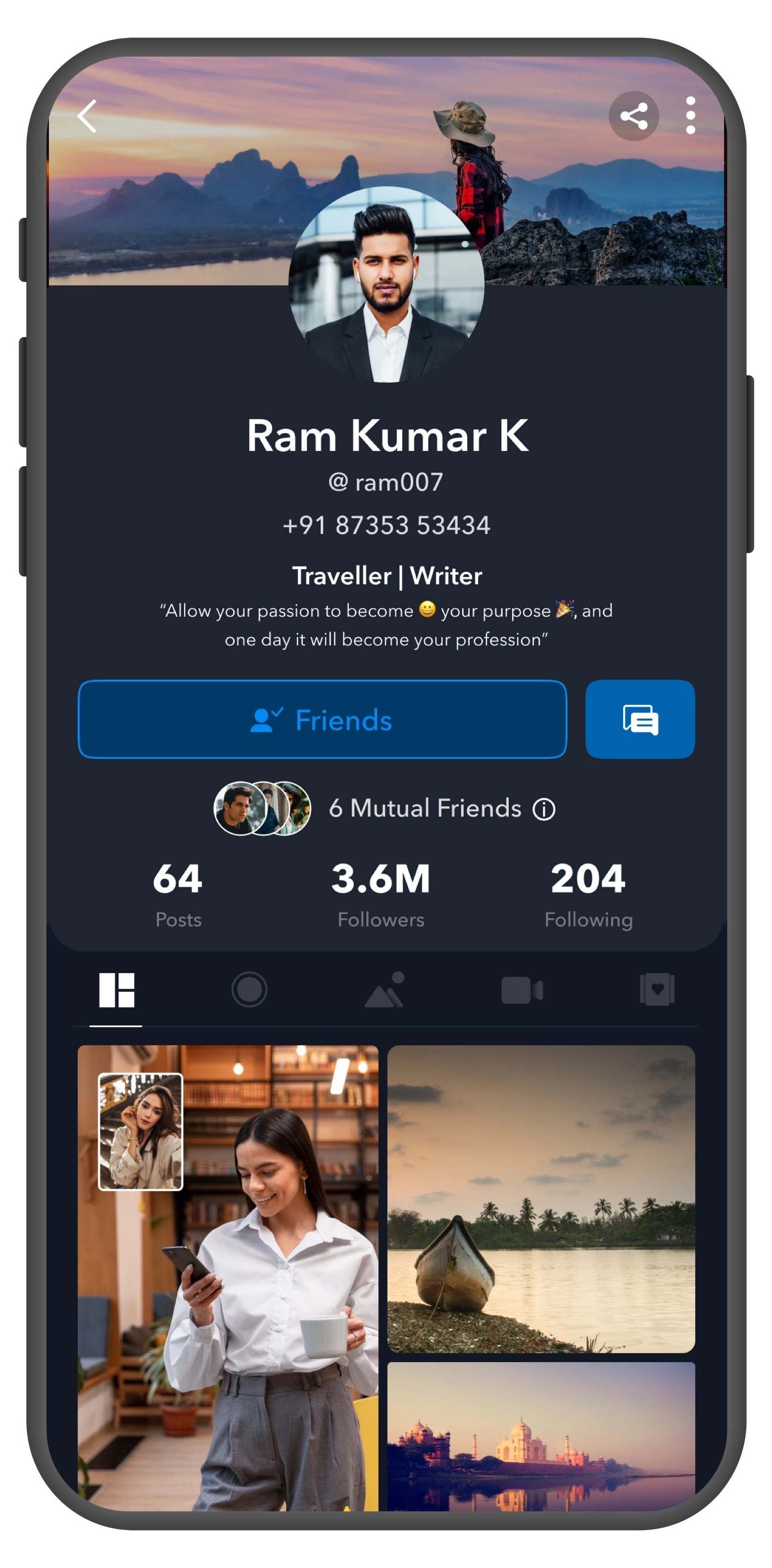 Get connected with people in your interests
Have a new online social experience of connecting with awesome people in your passion, skills, and interests that can help you to grow & succeed!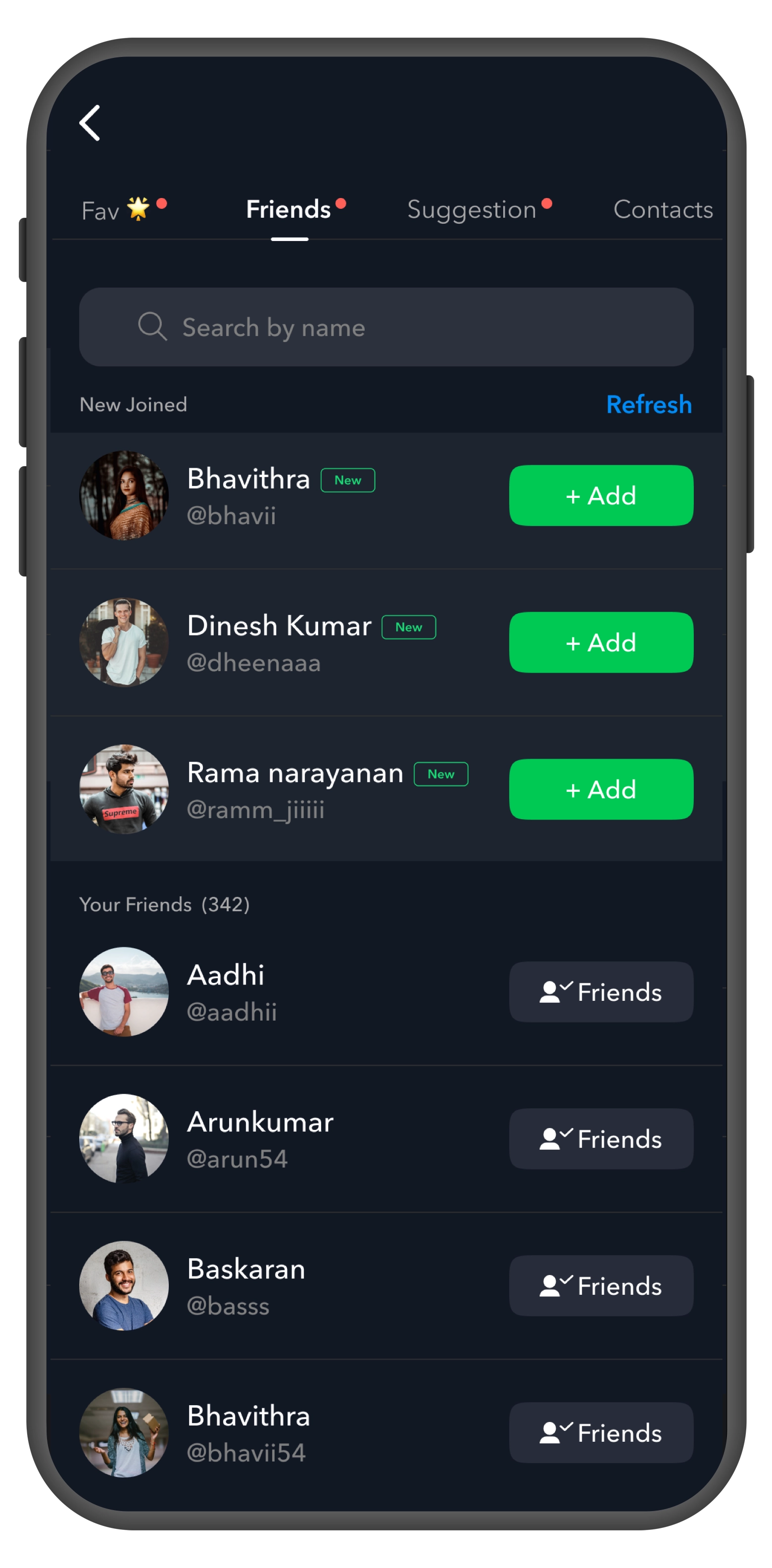 Slashing hatred content shares on the platform
No more irrelevant, negative content in your social media feed. Get immersed in the personalized content feed recommendations in your interests & from your closed people.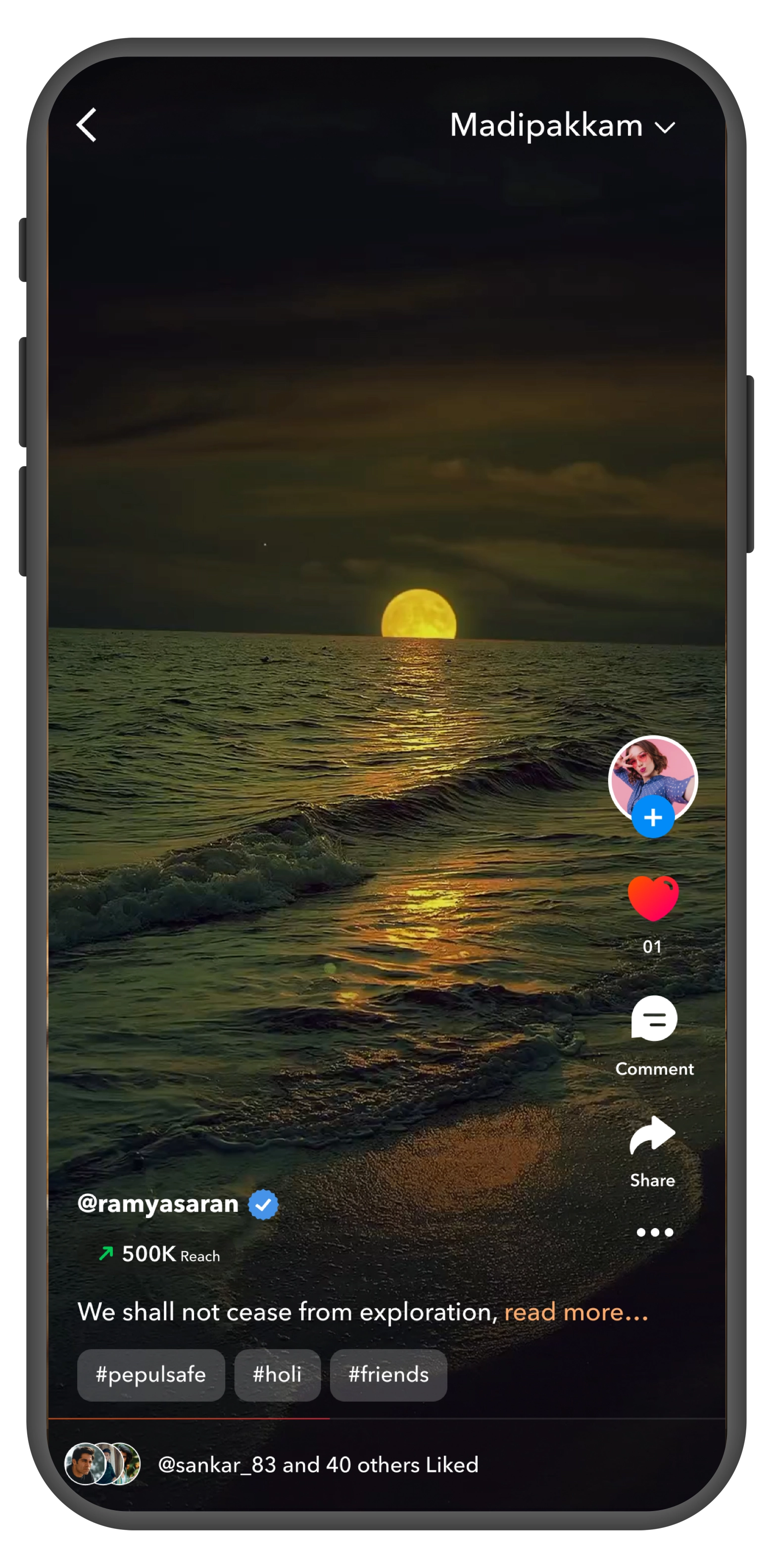 KYC Verified users
We are the world's 1st ever Social Network, who introduced the KYC system to verify every user in the platform to be real & authentic.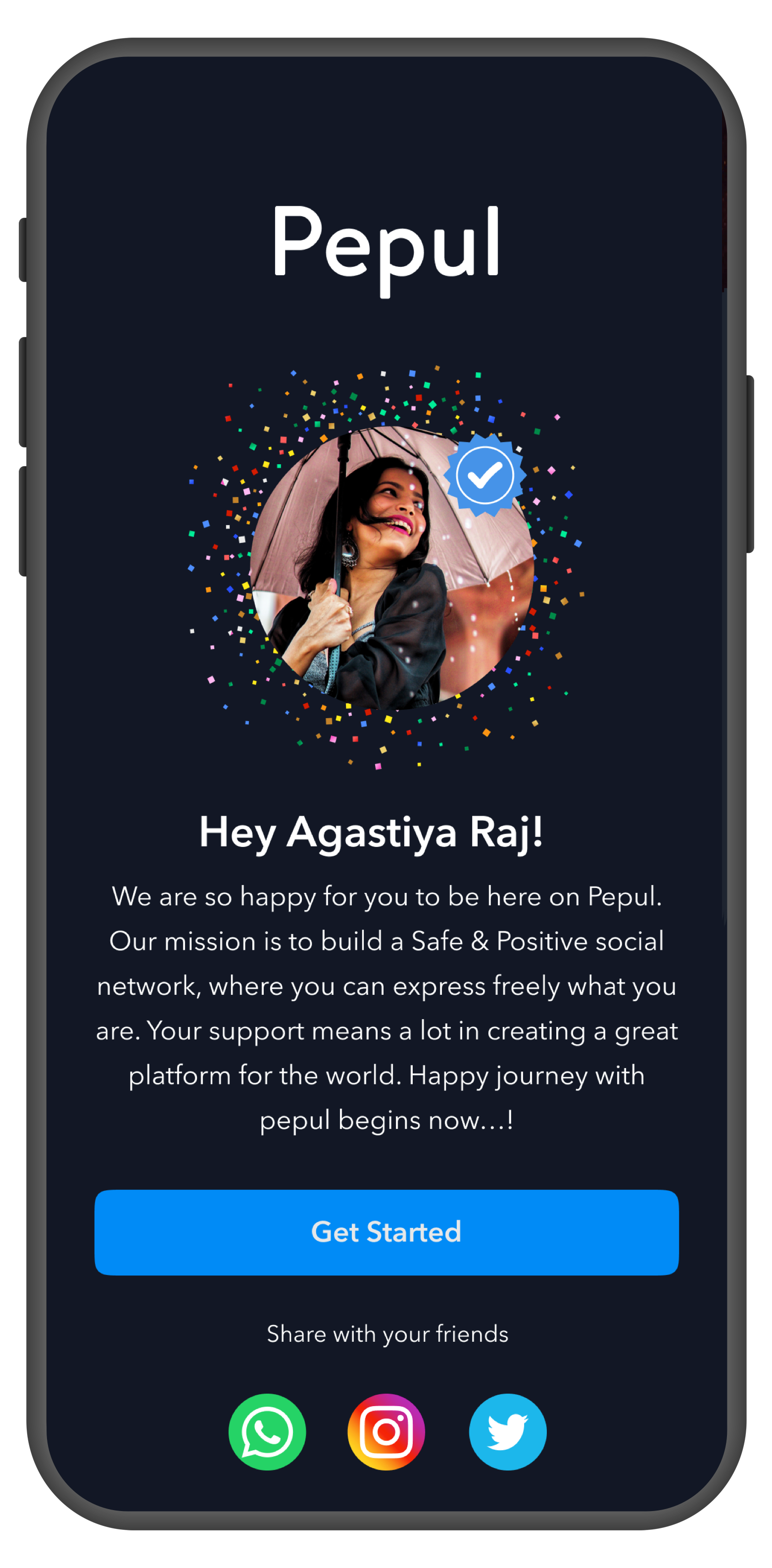 "Chennai-based Pepul aims to break the existing social media clutter"
Pepul is a new-age social network with a huge focus on security and safety. It aims to help like-minded people connect online and then create communities offline.

"The great Indian social media dream"
India's social platforms are seeing traction but they also have to tackle the big issues from the start—policy, moderation and civil discourse
"Chennai-based start-ups Pepul and IppoPay get funding"
Suresh Kumar G., founder and CEO of Pepul, said the funds raised would be utilised for building infrastructure, team expansion and user acquisition.

"Pepul, Chennai-Based Social Media Startup, Raises ₹ 10 Crore In Seed Funding"
Pepul, founded by G Suresh Kumar, brings together individuals and groups on the basis of their common interest.

"Pepul Raises INR 10 Crore in Seed Funding"
The funds will be utilized to build infrastructure for safest social platform, expand team and user acquisition.

"Chennai-born social network Pepul raises $1.5 million"
Pepul plans to use the funds t ramp up its tech infrastructure, expand its team and acquire more users.

"Chennai-born social network Pepul raises $1.5 million"
Pepul plans to use the funds to ramp up its tech infrastructure, expand its team and acquire more users.

"Pepul, a social network founded in Chennai, has raised $1.5 million. "
Pepul, a personal interest-based social network platform, has raised $1.5 million from a seed funding round led by Freshworks founder Girish Mathrubootham, Paytms Vijay Shekar Sharma, and Hourglass Ventures.
Join the social revolution and be
a part of history!
Together we can create history by building a global social media product from India. With your support and contribution, we all together can do great things!