What is Pepul Now Selfie Challenge?
Pepul Now Selfie Challenge is a contest conducted inside the Pepul app wherein the users stand a chance to win an Android phone worth Rs 20,000 and more exciting prizes by posting their dual selfies and sharing them through their social media accounts. This #PepulNOW Contest starts on 28.01.2023 and ends on 28.02.2023.
How to play Pepul Now Selfie Challenge?
Step 1: Install the Pepul app
Download Pepul. The app is available on both iOS and Android.
Step 2: Complete the profile creation
After downloading the app, fill in your profile details including your name, D.O.B., gender, description, etc and make sure to get your profile KYC verified.
Not sure how to get your Pepul profile verified? Check out this step-by-step guide to get a free blue-tick verification for your Pepul profile.
Step 3: Fill in details through forms
To participate in the Pepul NOW Selfie Contest, firstly, click the below link to fill in your details such as your name, Pepul username, mobile number, and your other Social Media username (The account where you are going to post the contest posts).
https://docs.google.com/forms/d/e/1FAIpQLSftwO6jBbmtKcSNEwolUIxmnb8l0683VNdEFJTXeZHNlfDrMA/viewform
Step 4: Upload the dual-camera stories
Capture and upload your live moments using the "Now" feature in the app every day.
Step 5: Add #PepulNOW in the description
Use #PepulNOW in the caption or description for all of your dual-cam selfie moments.
Step 6: Post and Share on Social Media Handles
Now, post and share your beautiful double camera live moment stories as posts on all of your other social media accounts along with #PepulNOW every day.
Step 7: Win Exciting Prizes
Win a smartphone worth Rs.20,000 and other exciting prizes by posting and sharing as many number of quality and innovative dual-camera moments before the end of February and grab the chance to win a smartphone worth Rs. 20,000 and many more exciting prizes.
How to post your dual selfies on the Pepul app?
Here is a quick guide for you to post and share your dual-camera selfies on the Pepul app: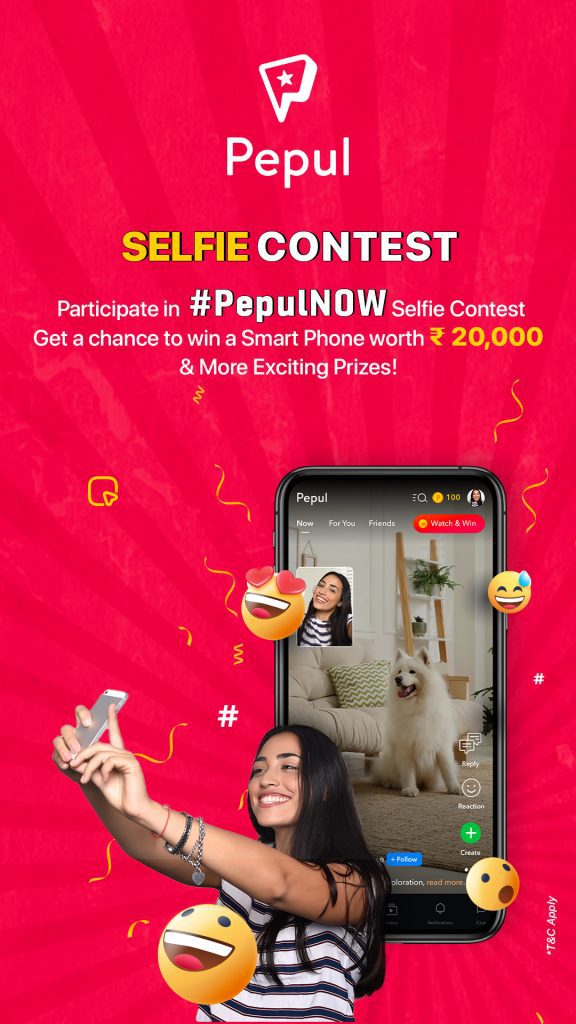 Step 1: Open the Pepul app
Step 2: Tap the (+) Create button
Step 3: Click the "Now" button
Step 4: Capture your dual-cam shots
Step 5: Add location, audience, caption
Step 6: Share with your friends using the share button
Congrats! You have successfully uploaded your dual selfie on Pepul.
Learn More: Still not sure? Here is a step-by-step guide to using the "Now" feature for you to post your dual selfies on Pepul. Check it out now!
Contest Rules:
Unique User: A participant must be a unique user in the Pepul app to get qualified for the contest. This means that a participating user must have a single account only and cannot have more than 1 account for the challenge.
KYC Verified User: Every participant should have their Pepul account KYC Verified by getting a blue tick in their profile on Pepul.
Hashtag: Every dual-cam live moment must be shared with #PepulNOW in the caption while sharing on your other social media accounts.
No. of posts: Prizes are awarded based on the "Maximum post shares" at the end of this contest. This means that the more quality and innovative dual selfies that a participant shares on their social media handle, the higher their chances to win the contest.
Frequency: Every participant must maintain the day's streak while posting their dual-camera picture stories using the NOW feature. It means that a participant must post daily at least 1 post on their social media pages without breaking the days to qualify while choosing the contest winners.
Public Account: The social media accounts where the participants post the contest pictures should be public accounts.
Tips for Pepul Now Selfie Challenge:
By sharing "Quality and Innovative Posts," you can grab the chance to win the challenge.
Share your dual selfies on as many social media accounts as possible.
So, what are you waiting for?
Seize a chance to win exciting prizes! Good luck!🎁
Download Pepul Android: https://play.google.com/store/apps/details?id=com.pepul.socialnetworking
Download Pepul iOS: https://apps.apple.com/in/app/pepul-social-network-app/id1571517301